If you have never considered After Party Catering Southampton call Valducci's Pizza today. So, you are having an event and have planned to ask a few people to return to your home after.
How many people did you think would take you up on it? Maybe you thought you would order a few pizzas to top off the night.
How easy it would be to contract Valducci's Pizza for your After Party Catering Southampton. All of our pizzas and appetizers are prepared fresh in our beautiful food truck. All we need is a parking space! We can offer your guests delicious eats like mozzarella sticks, stuffed mushrooms, calamari, shrimp, mini rice balls, zucchini sticks and more. The best fingertip food available.
Oh, and of course we can make you the most delicious and mouthwatering pizza, too. Our mildly browned crust, fresh tomato sauce, oregano, cheese and basil will have your guests taste buds reeling in delight! Our pizza is number one to all our clients.
Valducci's Pizza food truck has been serving the five boroughs of New York, Long Island, New Jersey and Connecticut for years. In fact, we have been in business for over 31 years. You can be assured that our quality, staff and affordability are just what you have been searching for.
After Party Catering Southampton
If you would like to learn more about our After Party Catering Southampton, then check out our menu to find out what we offer. You will see many photos on our website of actual prepared dishes, pizza and delights. You may call directly to speak with one of our representatives at 212 470-2277.
We can help you by answering any questions you may have regarding menu, availability, and payment options. Reserve your date today so you can offer your guests the best in restaurant quality food at your doorstep. We have prepared our delicious Italian cuisine for weddings, block parties, corporate events, bridal showers, outdoor events and even After Party Catering Southampton.
Don't be confused about how you are going to feed the guests you have invited back to your home or business. Valducci's Pizza can offer you a most unique and delectable menu. Our food truck will even add a bit of charm for those that have never experience restaurant quality food from a food truck.
After Party Catering Southampton is a special type of catering. It must be finger foods that do not require sit-down dining. We nailed it! For whatever occasion you have planned, if you are expecting to bring guests back to your home or business, you must be able to provide quality, quantity and ability. Valducci's Pizza brings it all to the table….literally.
Call us today and let us help you to plan the best after party ever without your having to worry about food. You bring the guests we take care of the rest. Valducci's Pizza and After Party Catering Southampton is at your fingertips. Call 212 470-2277 today because your guests deserve only the best. Manga!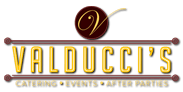 Schedule Your Event with Valducci's Catering!