VALDUCCI'S BRANDING FOOD TRUCK
Looking for a unique way to get your message out there or get your company and brand noticed? Re-branding our food truck with your company's logo, branding, and message is the perfect advertising for your next event.
Why pick us? We offer excellent custom branding for our food truck, and our food is delicious. Named "BEST Pizza" 5 times by the NY Daily News
Since 1989, Valducci's Pizzeria has been making award-winning pizzas for decades! Put your brand on full display and wow your guests with amazing food for your next event!
In 1999 we started catering our delicious "Original Famous Pizza" to Manhattan and the tri-state area in our mobile Italian Pizza Truck. Today, we Proudly Serve The Five Boroughs, New Jersey, and Connecticut
If you're looking for a unique way to effectively advertise your brand, you've found it.
If you're looking to book our food truck for an event or special occasion, contact us to find out our availability.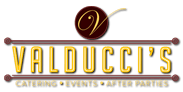 Schedule Your Event with Valducci's Catering!