In The Press
Valducci's has been featured in many news stories and articles.
Read some of press clippings about Valducci's Pizza by reading the postings below:
Giving Back to the Community
Valducci's Pizza is involved in several projects to improve our community.
One of our primary community efforts is Cell Phones for Soldiers Project. Our mobile truck serves as a drop-off site. We collect cell-phones, mail them in, and Cell Phone for Soldiers recycles and provides phone cards for troops.
Charities and Fundraising
I. Coolies Anemia
Staten Island's (S.I) Holiday Display, (December, 1990-2006): all proceeds from mobile truck was donated to Coolies Anemia.
II. Dine Out Against Hunger (1998-2006)
Our Original Pizza Café: 40% of all Proceeds Donated to NYC's homeless shelters.
III. American Cancer Society
a. Breast Cancer Walk – Clove Lake Park, S.I, NY. (2000 – Present)
b. Relay for Life – Wagner College (2000 – Present)
c. Light The Night – Leukemia Society (2000 – Present)
IV. "Mayors Relief Fund after Hurricane Sandy"
Giving out hundreds and thousands of meals at disaster relief locations. Valducci's was named and awarded the "Hero Award" at this year's Vendy Awards.
As September approaches, we remember those without regret who have served the community. After the 9-11 attacks and before it was "hip" to own a food truck, my father, Michael, supplied food and drink to the rescue teams and volunteers with his mobile truck.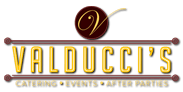 Schedule Your Event with Valducci's Catering!