Valducci's Famous Original Pizza
Catering Company in Staten Island, NY
Aside from being the late night king of pizza, Valducci's is a full-service event planning and catering company. Hire us for our services or even rent our mobile catering pizza truck! We service NYC, Long Island, and Connecticut.
We feature authentic Sicilian and Neapolitan pizza, with recipes that have been passed down generations. We utilize only the best ingredients, including our olive oil, cheese, and dough. In addition to pizza, we offer full buffets, including antipasto, pasta, sandwiches, beverages, and desserts.
Our pizza truck cuisine focuses on sourcing the freshest seasonal produce and integrating the finest imported ingredients to achieve a unique synergy of vibrant flavors. Your taste is our priority and we can tailor ALL our dishes to your every nutritional need.
DAILY NEWS VOTED 5 STARS

APPETIZERS
Mozzarella Sticks
Stuffed Mushrooms
Fried Calamari
Fried Shrimp
Baked Clams
Red or White Mussels
Mini Rice Balls
Red Roasted Peppers/olive oil,garlic and basil
Mini Rice Balls w/Prosciutto
Stuffed Artichokes
Fried Zucchini
Formaggio
Parmigiano Reggiano
Fresh Mozzarella
Provolone
Salumeria
Genoa Salami
Prosciutto Di Palma
Soprassata
Pepperoni
Family Specialties
Roasted Peppers: walnuts, garlic, olives, raisins, and breadcrumbs baked w/imported olive oil
Carrot Salad: cold cooked carrots w/garlic, basil, vinegar, and olive oil
Vinegared Zucchini or Eggplant: sauteed vegetables w/balsamic, olive oil, red peppers, and garlic
PIZZA
Thin Crust Grandma Pie (our specialty!)
Big Boy Sicilian – traditional thick crust
Neopolitan Pie- round pizza
Pies available with Vodka Sauce
Toppings- Meatball, Ricotta, Sausage, Eggplant, Pepper & Onion, Pepperoni
L'INSALATA
Tossed Salad
Caesar Salad
Cold Antipasto w/Tomato & Fresh Mozzarella
Cold Calamari Salad
Frutti Di Mare – assorted cold seafood salad
Honey Vinaigrette Salad w/Roasted Pears, Nuts, and Bleu Cheese
SANDWICHES
Panini Platters
Prosciutto, roasted peppers, fresh mozzarella
Eggplant (fried or grilled), roasted peppers, fresh mozzarella
Chicken cutlet (grilled or breaded), roasted peppers, fresh mozzarella
Sausage, peppers, onions, fresh mozzarella
Grilled chicken, broccoli rabe, fresh mozzarella
Veggie – mushrooms, zucchini, eggplant, tomato and fresh mozzarella
Wrap Platters (whole wheat wraps available):
BLT Wrap – bacon, lettuce, tomato, mayo
Veggie Wrap – romaine lettuce, tomato, roasted peppers, fresh mozzarella, balsamic glaze
Chicken Cutlet – lettuce, tomato, mayo
Grilled Chicken Caesar
PASTA
Lasagna
Ravioli
Baked Ziti
Penne Vodka
Stuffed Shells / Manicotti
SPECIALTY PASTA
Baked Cavatelli: served w/broccoli
Shrimp Fra Diavlo: shrimp marinara w/red or white clams, shrimp and calamari
Spicy Chicken with Hot Cherry Peppers
Spaghetti with Clam Sauce- red or white
Baked Cavatelli
Pasta with Broccoli, Garlic, & Oil
Rigatoni with hot cherry peppers
Rigatoni with Broccolirabe garlic and oil
ENTREES
Chicken
Parmigiana
Francese
Cacciatore – hot cherry peppers and garlic
Marsala
Picatta
Veal
Parmigiana
Francese
Marsala
Peppers
Picatta
Veal Cutlet topped with tomato and onion salad
Eggplant
Parmigiana
Fresca – marinara sauce, grated cheese, and basil
Meats
Sausage & Peppers
Broccoli Rabe & Sausage
Meatball
Sausage
Steak Pizzolo
Sunday Gravy- like Mom used to make , meatballs,sausage,pork & beef in a rich Red Sauce
Seafood
Shrimp Parmigiano
Shrimp Francese
Shrimp Fra Diavlo
Lobster Fra Diavlo
Calamari Marinara
Fish Francese
Sides
Sauteed Spinach
Broccoli
String Beans
String Bean Marinara
Asparagus Parmigiano
If you don't see what you're looking for, we will gladly make it for you!
Contact us at (212) 470-2277. Proudly Serving The Five Boroughs, New Jersey, and Connecticut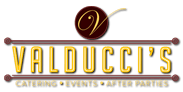 Schedule Your Event with Valducci's Catering