PressReader.com mentioned us at one of the best Sicilian Slices in NYC.  Here is what they had to say.
VALDUCCI'S ORIGINAL PIZZA TRUCK Manhattan, (212) 470-8476; Valduccis.com For those who like their slice saucy, Valducci's is the place to go. The pizza truck — which rotates locations between Battery Park City, the Meatpacking District and Park Ave. in midtown — loads up every slice ($3-$5) with a sweet and zesty tomato sauce topped with just a sprinkling of cheese. The Vallario family, who recently shuttered their popular pizza cafe in Staten Island, has been working out of trucks since 1999, but recently upgraded their truck ovens and it shows. The thin-crust Sicilian slice is anything but soggy, which is a major accomplishment considering the amount of sauce and toppings.
Click the link below to see the full article at PressReader.com
http://www.pressreader.com/usa/new-york-daily-news/20120401/282213712791313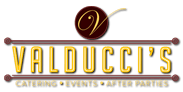 Schedule Your Event with Valducci's Catering!