When considering Catering Colts Neck for your next party, consider Valducci's Pizza. We have a food truck that prepares your traditional Italian cuisine and pizza right at your party. Valducci's Pizza has been honored to receive a 5 Star rating by the New York Daily News. We offer full-service event planning and Catering Colts Neck.
Valducci's Pizza was established in 1989. That is over 30 years in the food service industry.
We have perfected our traditional Italian delights over the years and are proud to have been chosen for catering for big events.
We have served at the Bronx Zoo, the Brooklyn Nets, Fashion Institute of Technology, Jacob Javits Center, Jet Blue, Mad Dog Productions, Sloan Kettering, Tiffany & Co., Tribeca Films and the list goes on.
If you would like to read the complete listing of clients, you may do so by clicking here, this page has all the info about our history.
We were also the after-wedding catering for Mike "The Situation" Sorrentino's wedding. What a unique and memorable way to celebrate a wedding, birthday, special anniversary, corporate event or holiday party.
Catering Near Me
We have our Valducci's Pizza flagship restaurant located at Veterans Rd. and now we are proud to have our newest location on Hylan Blvd. both in beautiful Staten Island. Believe me, it's worth the trip from anywhere to try our delicious pizza with our gently browned to perfection crust that is topped with melt in your mouth mozzarella, tomato, basil and oregano. It is a mouth-watering delight like no other.
Valducci's Pizza offers many different foods for catering. We have our famous pizza, finger foods such as mozzarella sticks, zucchini sticks, stuffed mushrooms, rice balls, calamari, antipasto, pasta and of course our famous Zeppoles. If you are considering catering, please call 212-470-2277 and speak with one of our representatives that can help you with planning as well as see our date availability. If you would like to order from our restaurant for take-out or delivery by GRUBHUB please call to 718-948-2002.
Valducci's Pizza has been serving the residents of Staten Island, the five boroughs of New York, Long Island, New Jersey and Connecticut with the best in traditional Italian Catering Colts Neck. If you would like our unique and delicious food truck to come to your party or event either at your home, event location, picnic, block party or company please call today. Dates are booked in advance and securing your date is of the utmost importance.
Look, we weren't voted best pizza by the Daily News 5 times because of our name. We were voted best pizza because it is the best pizza. Please come down to one of our locations and try it for yourself. You will be back for more, we guarantee it! The holiday season is coming up, so reserve your date for catering today or to order Pizza Colts Neck.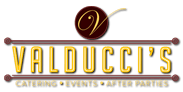 Schedule Your Event with Valducci's Catering!