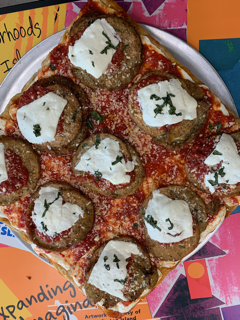 When searching for the best in Italian Catering Huguenot know that Valducci's Pizza is exactly what you have been searching for. With over 30 years of preparing the finest Italian food using the freshest of ingredients, we have become number one in New York. In fact, the New York Post has rated us 5 times as #1 in New York.
Our Catering Huguenot has been to the Bronx Zoo, the Brooklyn Nets, the Fashion Institute of Technology, Jacob Javits Center, Jet Blue, Mad Dog Productions, Sloan Kettering, Tiffany & Co, Tribeca Films and the list goes on.
In fact if you would like to see the complete list of our clients, you may do so by visiting our frequently updated client page.  In addition to preparing the finest Italian cuisine for these clients, we do the same for you.
If you are celebrating, having an event, corporate event or even after party post wedding reception, we can bring our cuisine to you. We have a Food Truck that prepares the most delicious pizza you have ever had. Our crust is browned to perfection and smothered in tomato, cheese, basil and oregano the old-fashioned way.
If you go to the above website, you can browse our catering menu. We offer pasta, antipasto, pizza, stuffed mushrooms, fried mozzarella or zucchini sticks, shrimp, clams, rice balls and so much more. Then you can end the meal with some of our delicious Zeppoles also made fresh.
Catering In Huguenot
Valducci's Pizza takes Catering Huguenot to the next level. We take pride in everything we prepare and do so safely.
If you are considering Valducci's Pizza for your next party, please call 212-470-2277 to make sure we have the date available.
In addition to our flagship restaurant on Veteran's Road in Staten Island, we now have a second location on Hylan Blvd also in Staten Island. When you go out for a drive and are looking for exceptional pizza like you have never had before, stop by. You may even want to move here!
Valducci's Pizza has been serving the 5 boroughs of New York, Long Island, New Jersey and Connecticut with the best in Catering Huguenot. Established in 1989 we strive to prepare the best in Italian cuisine and our customers tell us we have achieved our goal. Try us. You will be coming back for more.
Whether you are having a sweet 16, a special anniversary, a holiday party, or religious event, Valducci's Pizza and catering can help you without messing your kitchen, without dirty pots and pans and without questioning the quality of the food. Your party will not only be unique, but the food will be delicioso!
Call today for catering to 212-470-2277. If you are considering carry out, you can place your order by calling 718-948-2002. We also use GRUBHUB for delivery. When in doubt about what to serve your guests at your next party, think of Valducci's Pizza. It's always a hit and will satisfy even the most difficult palate.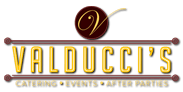 Schedule Your Event with Valducci's Catering