When searching for unique Catering Pleasant Plains, consider Valducci's Pizza.
Now with two locations to satisfy your need for Italian cuisine. Our flagship restaurant on Veteran's Road and now on Hylan Blvd both on Staten Island, New York.
For over 30 years, Valducci's Pizza has been providing the 5 boroughs of New York, New Jersey, Long Island and Connecticut with delicious yet affordable Italian delights with our Catering Pleasant Plains.
Valducci's Pizza also has a food truck that can bring the party right to your location. Whether you are planning a corporate event, picnic, wedding after-party or other event, know that we have the experience to provide you and your guests with the finest in Italian cuisine.
Our Catering Pleasant Plains is only tethered by your imagination. We have heart shaped pizza pies, delicious appetizers such as mozzarella sticks, fried zucchini sticks, stuffed mushrooms, antipasto, pasta, chicken, fish and so much more. Then to finish off your meal, try some of our delicious zeppoles, made fresh.
If you would like to learn more about Valducci's Pizza and our ability to provide you with the freshest and finest in Catering Pleasant Plains you may simply click here.
If you are considering our Catering Pleasant Plains, please call directly to 212-470-2277 to check on our date availability. There are always options with Valducci's Pizza. Finger foods, complete dinners or pizza. We are much more affordable than you would imagine.
Catering Near Me
Valducci's Pizza has done Catering Pleasant Plains for the Bronx Zoo, the Brooklyn Nets, Fashion Institute of Technology, Jacob Javits Center, Jet Blue, Mad Dog Productions, Sloan Kettering, Tiffany & Co, Tribeca Films and the list goes on. Actually, you can read the entire list of clients on the above noted website.
Please check out our menu and see the mouthwatering and delicious Italian dishes we can make just for you. Our pizza has an evenly baked and browned crust topped with the distinct flavors of tomato, cheese, basil and oregano. Your mouth will sing with delight.
When searching for a restaurant that does Catering Pleasant Plains you don't want to take a chance. You need to know that not only are they experienced in ability to serve a large group, but you need to know that the quality of the product is truly the best.
You want your guests to remember the event and smile, not wince. That is where Valducci's Pizza comes in. We have been providing our catering services for decades. We are professionals in the way we treat our customers and the quality of our Italian cuisine.
Did you know that Valducci's Pizza was at Mike "The Situation" Sorrentino's after wedding party? That's right. He asked us to come and prepare for his guests the most delicious late-night treats in New York. Our cuisine was enjoyed by all his guests and they still talk about it!
Why not bring the family to Valducci's Pizza for a taste of traditional Italian food and see how we can make your catered affair delicioso.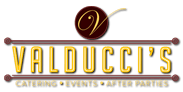 Schedule Your Event with Valducci's Catering!