If you are searching for the most delicious in Catering Prince's Bay, you have found it at Valducci's Pizza. Now with two locations in Staten Island. Our original restaurant located at Veterans Road and our newest locations on Hylan Blvd. Both serving the most mouth- watering Italian cuisine.
When searching for unique catering our Food truck is a whole other experience. We have found a way over many years of practice to perfect the food truck experience.
We offer a wonderful menu of Italian delights such as pizza, stuffed mushrooms, antipasta, pasta, Zeppoles, fried mozzarella sticks, zucchini sticks, rice balls and so much more.
Choose from an entire menu for your catering needs. Our food truck serves the 5 boroughs of New York, Long Island, New Jersey and Connecticut. We bring the party to you!
This type of Catering Prince's Bay is for wedding after parties, block parties, corporate events, events, picnics and other large gatherings. You will be amazed at how we bring our delicious menu to your party.
Our pizza crust is browned to perfection, topped with the distinct flavors of tomato, basil and oregano. Take a bite of this sumptuous delight. It will dance on your pallet and then your pallet will beg for more. Our food is addictive!
Catering in Prince's Bay
Whether you are planning a dress up or dress down occasion considering Valducci's Pizza for your catering.
Valducci's Pizza has been preparing Italian cuisine the old-fashioned way since 1989. That's 30 years of doing it right. We have served at events for the Bronx Zoo, the Brooklyn Nets, Fashion Institute of Technology, Jacob Javits Center, Jet Blue, Mad Dog Productions, Sloan Kettering, Tiffany & Co, Tribeca Film Festival and the list goes on.
If you would like to learn more about our Catering Prince's Bay or about Valducci's Pizza, you may do so by simply clicking here.
You may call our restaurant for pick up or delivery by Grubhub at 718-948-2002. If you are interested in booking our food truck for your Catering Prince's Bay call for availability to 212-470-2277.
Come down to Valducci's Pizza and try some of our delicious meals. We also offer gluten free pizza, heart shaped pizza, square pizza, grandma pies, calzones, garlic knot sandwiches, spinach roll, eggplant roll and our delicious chicken, pasta and fish dishes.
When you think Italian, Valducci's should be the first thought. We are the original Valducci's Pizza. The one that was vote the best in New York and the same one that was awarded a 5 Star review by the New York Daily News. We must be doing everything right!
Call today to 212-470-2277 and see how we can help with your upcoming event. Our catering brings the food to you with no mess, no dishes to wash and delicious Italian cuisine. Plan your event and call for our availability today. Dates go quickly because we are THAT good!! We are also more affordable than you would imagine.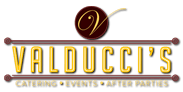 Schedule Your Event with Valducci's Catering!