If you have never experienced a Food Truck Manhattan, call Valducci's Pizza today. We are a favorite in the five boroughs of New York, Long Island, New Jersey and even Connecticut.
Basically, we bring the restaurant quality food to your door. We are so much more than pizza. We can also offer you fingertip foods such as mozzarella sticks, stuffed mushrooms, mini rice balls, artichokes, fried zucchini sticks, calamari and so much more. In addition, know that we can provide you with delicious and mouthwatering pizza.
Our slightly browned crust that will melt in your mouth along with our delicious tomato sauce, cheese, basil and oregano makes our pizza the best.
We offer you restaurant quality food that is prepared fresh using the finest ingredients and served from our beautiful, clean Food Truck Manhattan. Whether you are hosting an after party, wedding, shower, family reunion, corporate event or other occasion, know that if you bring the guests, we will do the rest!
For more general information regarding our Food Truck Manhattan you may simply click on the attached link https://www.valduccispizza.com/.
There you will find actual photos of our mouthwatering cuisine, choices in menu, our food truck and more. You may give our offices a call and speak with one of our knowledgeable representatives at 212 470-2277. Valducci's Pizza has been serving the public for over 31 years. We have mastered the art of cooking right at your doorstep so you can offer your guests freshly prepared, not reheated food. What a unique and unexpected way to serve your guests. They will be delighted!
Pizza Food Truck Manhattan
Valducci's Pizza can help you to celebrate your day with traditional Italian delights. They will not only tempt pallets but put diets to shame! Also know that Valducci's Pizza can offer delicious options to those with special dietary needs such as gluten- free as well.
Give us a call at 212 470-2277 today and let us help you provide excellence in Italian fare for your upcoming event. We serve to small gatherings and large corporate events or weddings. Don't do ordinary. You know your guest expects something special.
You can give them culinary delights that will be an everlasting memory with Valducci's Pizza. And don't forget to try our freshly fried on the spot Zeppoles. This is, melt in your mouth goodness like no other.
Imagine serving piping hot Zeppoles to your friends and family from our Food Truck Manhatan. It is the ultimate in Italian desserts. Don't mess with cutlery and dishes. Feed your gang with fingertip food directly from our Food Truck Manhattan.
Call today to speak with our representative that can guide you on menu choices, date availability and methods of payment. You will be almost as happy as your guests when you see the Valducci's Pizza truck enter your parking lot!
After all, we are exactly what you have been searching for. Unique, delicious, convenient and affordable. We know how to put smiles on faces, and we can cook it up fresh just for you. Manga!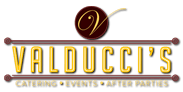 Schedule Your Event with Valducci's Catering!