Food Truck Neptune By Valduccis
We have been in business since 1989 and we have been on the road with our Food Truck Neptune since 1999. Our food truck Neptune or as we call it our Italian Pizza Truck has seen many different events.
Don't let our location prevent you from experience one of the top rated pizzerias in the Tri-State Area. Valducci's Pizzeria has two locations; one at 3010 Veterans Rd, West Staten Island and the other 2656 Hylan Blvd Staten Island.
The possibilities for a great party are endless when you have our truck parked for your Italian craving guests. Celebrities of every corner have had us at their parties, weddings, and special events.
Do you recall the scene in a popular TV show on MTV when the groom called to get pizza and zeppoles for their After-Party? That was our pizza and zeppoles!
Late Night Pizza With Valduccis Food Truck Neptune
You can surely count on us at Valducci's Pizzeria to wow you and your guests whether you want a traditional 19-course Italian meal or pizza served directly from our food truck. We provide you with the best selection known to the foodies out there.
Take a look at our menu to select what you would like us to serve from our food truck Neptune this way we have already on hand what you and your guests would love to fill your stomach with. We have our Traditional Sicilian Pizza which is served with out famous sauce covered in regular mozzarella.
Vodka Square Pizza that is a thick crust squared with our special vodka sauce and fresh mozzarella, just to name a few of our Square style Pizza's. We can also serve for you our different style Grandma Square Pizza's with three different styles. Though you do not have to have square slices we know that not every one enjoys that style. Ask about our traditional Round Neapolitan Pizzas.
Valduccis Pizza, Hot Off The Truck
With so many different flavors available you are 100% going to find something that will tickle your tastes buds. From our Traditional Cheese Pizza to even a Gluten Free Cheese Pizza, we look out for every body!
Be sure to ask about any offers we may have going on. Our famous Zeppoles are always on order when we get a call to cater an event with our Food Truck Neptune. We do also serve Home made Garlic Knots and for those who are feeling adventitious with it we have them as sandwiches too.
You can get a Chicken Parm on our homemade garlic knot sandwich and for a few cents more you can get it with our special vodka sauce.
Valduccis Pizza & The Food Truck Neptune
If you would like to learn more about our Menu please feel free to browse the webpage or give us a call at 212-470-2277.
Let us know you are interested in having our Italian Pizza Truck cater your next event and we well be happy to assist you with scheduling and pricing and even going over the menu with you so we are all on the same page with what you will be expecting.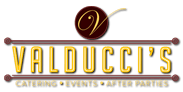 Schedule Your Event with Valducci's Catering!