Food Truck New Brunswick By Valduccis
If you are looking for a Food Truck New Brunswick, you do not need to look any where else. Valducci's Pizza is at your service! We have catered many different forms of parties for all sorts of classes.
Since 1989 Valduccis Pizza has been proudly serving Staten Island with award winning pizzas. In 1989 we decided to take it to the next level and share our pizzas with the Tri-State Area with our Italian Pizza Truck as we call it.
We have even been called to a few celebrities' parties and after parties to give them our famous Pizza and Zeppoles with our Food Truck New Brunswick. You actually may have already caught a glimpse of our services on a popular reality TV show a few years back. We were called to cater the after party of a wedding of a TV personality star.
Late Night Pizza Food Truck New Brunswick
We are most definitely proud of the positive feed back we have gotten since 1989. Its no wonder we are still in business. The food industry without question was hit hard during the Pandemic, but we are still going strong and we only have those who eat with use to thank! \
Our greatest form of application is to spread the word around about us so we can wow those looking for a different style of service for their party.
How many parties have you gone to that you were greeted buy a food truck New Brunswick?
Take that into consideration when you are planning out your party. Not to mention our food menu is out of this world. With so many different sorts of food to choose from there is no way you will be disappointed.
Our pizzas are created with love and the same forms of ingredients since the beginning!
Valducci Pizza has the perfect combination of care and fairness with our taste and pricing, because without you we would no longer be in business. We will not just serve you pizza from our food truck New Brunswick; we have a great deal of different foods to choose from.
Such as our different appetizers, our calzones, our family rolls, the hot plates, pastas and our tasteful homemade garlic knot sandwiches. All that to choose from along with our famous zeppoles for dessert. We will even serve you Gluten Free Pizza if that is properly requested on your end.
Valduccis Pizza, Hot Off The Food Truck New Brunswick
Valduccis Pizza is proudly serving the Tri-State Area from two different locations in Staten Island. The first location is 3010 Veterans Rd West, and the second location is 2656 Hylan Blvd.
If you are interested in having us come down to cater your next even with our Food Truck New Brunswick, give us a call at 212-470-2277 so we will be able to go over all the important information you will need to have while hiring us. Or if you can not sit on the phone please feel free to contact us via email.  We will get back to you in a timely manner.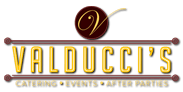 Schedule Your Event with Valducci's Catering!