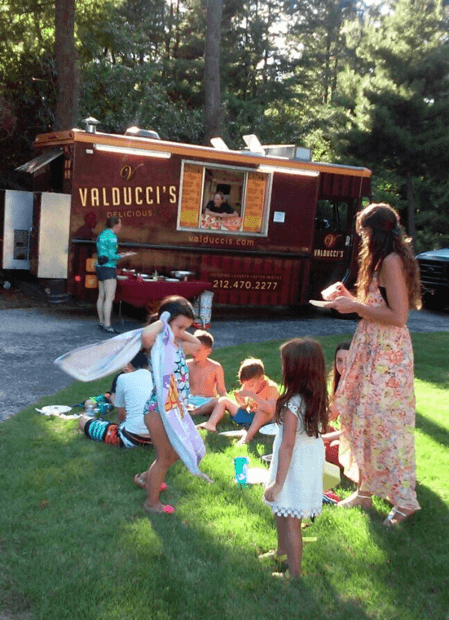 For the best Italian cuisine served from a Food Truck Southampton, call Valducci's Pizza.
We are so much more than a pizza truck, though.
We can serve main meals from our food truck.
We can offer you an entire Italian menu with appetizers, main meals, pizza and zeppoles.
You see, Valducci's Pizza is known for our Italian cuisine. We serve at weddings, picnics, reunions, events, corporate functions and just about anywhere that has a parking lot!
One of our specialties is after-party service. If you are having an afternoon wedding and you invite your guests back to your home, we can be there waiting with our delicious menu of Italian delights.
All food is prepared fresh and served directly from our truck.
No mess for you, no caterers to wait for and quite afforwdable. We have been serving from our Food Truck Southampton in the five boroughs of New York, New Jersey, Long Island and Connecticut. Valducci's Pizza has been in business for over 31 years.
If you would like to learn more about Valducci's Pizza Food Truck Southampton, then check out our menu to find out what we offer.You may also call directly to our representative at 212 470-2277. We can help you to celebrate in a unique and mouthwatering way.
Our truck offers appetizers or finger foods such as mozzarella sticks, stuffed mushrooms, shrimp, clams, mussels, mini rice balls, artichokes and of course fried zucchini sticks. We have wonderful gently browned pizza including our thin crust style. Toppings and distinct Italian flavors of tomato, basil, oregano and cheese with a crust that will melt in your mouth, make our pizza absolutely delicious.
Our Zeppoles are made by hand the old- fashioned way and also melt in your mouth. Whether you are hosting a dressed up or dressed down party or gathering, we can help make it spectacular.
Pizza Food Truck Southampton
Please call our offices at 212 470-2277 and discus your upcoming event. We can reserve the date for you as well. Have a summer event in the Hamptons, no problem. You will be amazed at how delicious our Italian fare is when cooked in our Food Truck Southampton.
Also know that if you have guests that require special dietary needs such as gluten-free, we can accommodate that as well. We want to help you to have the best party and the best restaurant style catering affordably. Being in the business for over 31 years means that our food, staff and integrity are always appreciated by our clients.
So, if you are planning a bridal shower on your lawn this summer, a wedding, family reunion, block party, or corporate event, let us make it superior to your expectations. After all, Valducci's Pizza is just what you have been searching for.
Browse our website for more general information as well as actual photos of events we have catered. See the deliciousness of the food photos and mouthwatering delights from our Food Truck Southampton. Then, call us because when it comes to private catering, you can't beat Valducci's Pizza.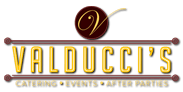 Schedule Your Event with Valducci's Catering