The New York Food Truck Association gave us a write up on their blog.  Her is what they had to say.
To Pizza, or Not To Pizza
Pepperoni or sausage, ketchup or mustard, to be or not to be. Life is full of difficult decisions, and it's so rare nowadays for people to see eye to eye. Whether it's differing political views, reaching a compromise on a dinner plan or a full-blown office-wide debate on what lunch should be for the day. There are very few things left in this world that exist purely to bring joy, to bring people together, but no matter what state the world is in or how lost you may feel there is something, always, waiting for you. The light at the end of the tunnel, drumroll please, pizza! Now sure that is a lot of dramatic build up, but can you argue?
Pizza is a universal language, and it is spoken most eloquently by none other than New York's Valducci's. They can usually be found prowling the streets of Manhattan slinging everything form slices and pies, to pasta and peppers! Their claim to fame, of course, the Grandma pizza. Still made today with Nanna's classic recipes, and bringing the crown back day after day. So we set out on a cool January day in search of the almighty pie to fill our bellies.
While they are typically slinging slices out of their award winning mobile food truck, which has been named "Best Pizza" 5 times by The New York Daily News, they do make house calls! Now we all know there aint no party like a PIZZA party, and the guys at Valducci's put on a pizza party like it's nobody's business. (Or, rather, like it istheir business) Everything from the pizza and plates, to the lights and the tunes. So the next time you're throwing an event and need to be absolutely sure it's going to be a hit, bring in the pros, bring in Valducci's.
Read the full article at the nyfta blog.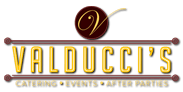 Schedule Your Event with Valducci's Catering!