The #1 Pizza food in NYC was featured on ESP Metal Products and Crafts this month.You can read what they wrote about us below or follow the link to see the actual article.
Valducci's Pizza Truck
Valducci's Pizza Truck began as a Staten Island pizzeria, but their "Original Famous Pizza" was so popular that they started a mobile business to serve the Manhattan and tri-state area. Parties, public events and company gatherings are Valducci's specialty.
Their most featured and popular dishes are the authentic Sicilian and Neapolitan pizzas, which utilize family recipes passed down for generations. This incredible company has a passion for serving the freshest produce, importing the finest ingredients and offering the best catering services for any event. When the mobile truck service isn't catering to an event, it can be found servicing downtown.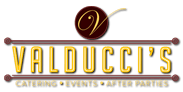 Schedule Your Event with Valducci's Catering!