Valducci's Pizzeria located at 3010 Veterans Road. West Staten Island is well known through the Five Boroughs, New Jersey and Connecticut. We have been open since 1989 serving our delicious pizza and then some to these fine areas.
Did you know though that we started a catering company in 1999 because of how "famous" our pizzas have become? It's true; we have been named to have the best pizza 5 times already by the New York Daily News.
We are so popular we have catered high end names all over NY. View the list of our clients for yourself.
Wedding Catering Near Brooklyn
Not only have we catered those high end listers but we also offer wedding catering Brooklyn for those high end listers. It's your special day; you and your guest should have the best of the best catered dining. And who doesn't love a great Italian meal?
We do not just offer pizza, we have a complete menu of what our catering services offer on our web site as well. We will also provide the snacks and desserts for you and your guests!
Plus how often can you tell people that you had your wedding cater by Valducci's Pizzeria?
Our reputation keeps us holding up our high expectations everyone has for us and we would not have it any other way. We are proud of our accomplishments through out our 31+ years of being in business.
Our food is prepped with the finest ingredients and if you have a special request on how a specific dish is made, please do not hesitate to let us know and we will gladly prepare it for you to your liking. We want everyone to enjoy our meals as much as we enjoy making them!
It is believed that when you make a dish your emotions go into the food.
The cooks at Valducci's Pizzeria as a caterer always put love into their creations. With the fact that we are well known; it shows. Checkout our complete list of what we offer for our catering services.
If you do not see something on the list that you are interested in having at your wedding please do not hesitate on calling us at 212-470-8476 to find out how to add it to the menu.
Catering For Brooklyn Weddings
Out goal for Wedding Catering Brooklyn is to make your night as memorable as possible with serving you and your guests award winning meals, whether it be the main course or snacks and entrées and desserts.
Do not forget to ask about our amazing Zeppole's that are made fresh every day. Consider us for your wedding catering needs.
We will not disappoint, clearly we are one of the finest around the 5 Boroughs. Give us a call 212-470-8476 to discuss your plans or go to our website for more information or contact us with your requests. One of our staff members will get back to you in a timely manner to discuss your plans and scheduling.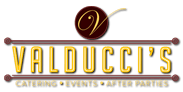 Schedule Your Event with Valducci's Catering!