When searching for unique Wedding Catering Southampton know that here at Valducci's Pizza we do all we can to make your wedding delicious and convenient.
We have been in the catering business for over 31 years offering mouthwatering Italian cuisine to our clients.
We can prepare fresh traditional Italian fare using the finest of ingredients and made fresh in our catering food truck.
We offer appetizers such as mozzarella sticks, stuffed mushrooms, calamari, shrimp, clams and mussels, mini rice balls and fried zucchini sticks Also, we offer a full line of pizza as well.
Whether you are planning a wedding on the beach, or backyard, Valducci's Pizza can do your Wedding Catering Southampton affordably. We can even prepare melt in your mouth Zeppoles too. Valducci's Pizza not only caters weddings, we can cater your corporate event, holiday party, sweet sixteen, confirmation party and any affair in between!
For more general information regarding Wedding Catering Southampton or after-wedding catering. On this page we have photos of our beautiful catering truck which is where we will prepare your fresh cuisine. All we need is a parking space.
Our famous pizza offers your guests deliciously mildly browned crust with toppings or with the distinct Italian flavors of tomato, basil, cheese and oregano. You pick your menu. When browsing our website, take note of the beautiful photos of our food selections. As you will see, our cuisine is unmatched by any other food truck.
We can offer you the freshest hot food brought right to your door. Valducci's Pizza has been serving the boroughs of New York, New Jersey, Connecticut and Long Island for over 31 years. That says a lot about our integrity, quality of our prepared meals and affordability.
Wedding Catering Southampton
Try something for your Wedding Catering Southampton. You will not be an experiment. We are known for our wedding catering as well as Italian perfected cuisine. Call to speak with one of our representatives at 212 470-2277.
When searching for Wedding Catering Southampton that can have your guests gushing with delight, choose Valducci's Pizza. After all, we are not just pizza! If you are planning a summer backyard wedding, catering can be daunting. Not so with Valducci's Pizza.
We can show you how wonderfully we can help you guests enjoy your wedding and dine on a delicious, freshly prepared meal that is as mouthwatering as it is visually gratifying. We are not a hot dog truck. We are a fine, traditional Italian restaurant on wheels.
Let us show you how we can cater your wedding like no other. Why not be the talk of the town? Call us today at 212 470-2277 and see if we have your date available. Then we can sit down and plan your menu with you. If your guests have special dietary needs, we can address that too.
Why would you plan your Wedding Catering Southampton anywhere else when we come to you! After all, Valducci's Pizza is exactly the unique experience you have been searching for.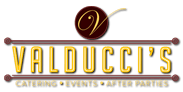 Schedule Your Event with Valducci's Catering