Have you recently gotten engaged, are feeling somewhat overwhelmed when it comes to planning your wedding menu, and don't know where to turn, as you want everything to be amazing, but, at the same time, don't want to spend an absolute fortune?
Concerned about being able to have something delicious for every guest at this major life event so that your wedding day will be something that they will always remember?
Then Valducci's Wedding Catering Stony Brook is the answer you're looking for!
Leave the cooking and catering to us! We are a full-service event planning and catering company who can easily meet your heart's desires when it comes to pleasing your guests!
With Wedding Catering Stony Brook, you pick the menu. Need appetizers for the cocktail hour? We have many to choose from, including mozzarella sticks, mini rice balls, stuffed mushrooms, calamari, shrimp, garlic bread, and fried zucchini sticks, just to name a few.
When it comes to entrees, you may wish to consider such options as our full line of pizza selections, as well as the great variety of food trays we can provide. We offer such items as eggplant parmigiana, chicken parmigiana, sausage and peppers, penne a la vodka, macaroni and meatballs, lasagna, and stuffed shells, among others!
In addition, we have our own family specialty items, such as our roasted peppers, carrot salad, and vinegared zucchini and eggplant. There are also our many salad creations we can provide you with that include our tossed salad, Caesar salad, and cold antipasto with fresh mozzarella and tomatoes. We use authentic, cherished family recipes that have been passed down through the generations.
At the same time, we are available when it comes to working with any special requests you may have. Also, know that we use the finest high-quality ingredients for every dish we make, as we prepare our food with flair and finesse.
Wedding Catering Stony Brook
Food truck catering for weddings has become a major trend over the last few years, as it is a way to cut costs while providing your guests with a one-of-a-kind experience that they will never forget! We proudly offer our catering services to you, arriving at your venue in a timely manner via our food truck, which is essentially an Italian restaurant on wheels!
We are legendary and truly known for our delicious food and efficient and delightful service! Many of our customers recommend us to their friends and family because they have been absolutely thrilled with their Wedding Catering Stony Brook experience.
We have over 30 years' experience in the catering industry and have a true passion for what we do! We consider cooking an art and genuinely enjoy making our customers beyond happy. We are also quite well-known throughout the Long Island/New York City area and even provide catering for some celebrities on their movie sets!
For more information about our Wedding Catering Stony Brook, please check out our catering details. Our website includes many photos of our various food creations. Please feel free to also give us a call at (212)470-2277. We look forward to working with you and hope to hear from you soon!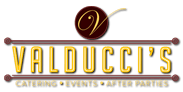 Schedule Your Event with Valducci's Catering!