Zeppoles Brooklyn originated in the 19th century in Italy. Most believe it came from Rome, some believe Naples. Regardless of where it originated from they are still delicious and served all over world as a treat. This Italian pastry consists of a deep-fried dough ball that varies in size but is typically about 4 inches (10 cm) in diameter. It is primarily topped off with a sweet powered sugar. Custard, jelly, cannoli-style pastry cream, or a butter and honey mixture can sometimes be found in the center of the pastry.
We at Valducci's Pizzeria located at 3010 Veterans Road. West Staten Island, have been around since 1989 and have been making these Italian desserts since then. We pride ourselves in our great reputation. We have been named "best pizza" 5 times by the NY Daily News. Our Zeppoles have to be the best of the best.
We make them fresh every day and you can request as many as you would like. Come on in to our pizzeria and have one or two, or order a thousand for your catering needs.
Ask about the fillings as well should you be interested in different forms of the Zeppoles Brooklyn. Give us a call at 212-470-8476 to discuss the many different possibilities we provide for this sweet or savory treat.  Or go to our dedicated Zeppoles webpage to schedule an event or place your order.
Brooklyn Zeppoles
Tradition is very important to the Italians and we have made it our mission to make all our meals as traditional as possible. Of course we have added our own personal touches.
Each dish is set up with love, along with our desserts and the Zeppoles. Did you know that the Zeppole is traditionally served on St. Joseph's day in Italy? This day is celebrated by the Italians every year on March 19th. It is a celebration of Jesus' legal father and Mary's husband Joseph.
The Zeppoles Brooklyn are sometimes even presented as gifts during this celebration. We can make them to order, or an original with no fillings. What ever you are looking for let us know! These delicious treats are one of our bigger hits next to our prize winning pizzas.
If you are having a gathering or an event and would like to have tasty Italian treats served please give us a call at 212-470-8476 to discuss what sorts of treats you are looking to have. Or visit our website where you can view our menu and place your order there. But don't fret, if you are just looking for a tasty fritter for after dinner we will gladly make it for you.
Order how many you would like and we will prepare it for you. Due to the recent Pandemic we are aware of the concerns with prepped food. If you are concerned you may ask us any questions you have regarding the preparation of your order. We want you to be satisfied not by just our taste but by how well we treat our customers.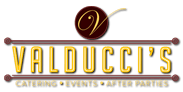 Schedule Your Event with Valducci's Catering!