If you love freshly made Zeppoles Huntington brought right to your door, consider Valducci's Pizza. We have a food truck that can offer your wedding, picnic, block party or corporate event fresh and delicious Zeppoles Huntington. Maybe you have never heard about us.
We are a professional Italian style catering food truck that provides delicious and mouthwatering Italian dishes delivered to your home or event.
We offer a vast menu with Italian delights such as Antipasto, mozzarella sticks, stuffed mushrooms, calamari, seafood such as shrimp, clams, mussels, and more.
We can cater your wedding, event or occasion.
We make our Zeppoles the old- fashioned way. No machinery used here! We have been providing our delicacies to our clients for over 31 years. So, as you can tell, we have the experience and the staffing to make your party or event a very unique and delicious one.
If you would like to learn more about our menu or general information, you may simply click on the attached link https://www.valduccispizza.com/. There, you will find actual photos of events we have catered, pictures of our delicious hand made pizza.
Our pizza is baked right on our truck giving you browned crust that melts in your mouth with the distinct Italian flavors of tomato, basil, oregano and cheese. Whether you are considering our Neapolitan pizza, grandma pizza or specialty toppings on your pizza, you will never be disappointed. Made to order at your own doorstep!
Check out our website for menu choices and catering options. Know that we have been serving the five boroughs of New York, Long Island, New Jersey and Connecticut with happy satisfied customers for over 31 years. Our catering/food truck is a unique idea to bring the freshest tastes to you. Why would you schlep food in bags to your event?
Whether you are having a family reunion in a park and wish Italian cuisine or are planning an after-party post wedding celebration, consider Valducci's Pizza. Our Zeppoles Huntington are the icing on the cake! After enjoying some of our Italian delights, why not top off your meal with freshly made Zeppoles Huntington?
Zeppoles By Valducci's In Huntington
Call our offices today at 212 470-2277 and speak with one of our representatives that can answer any questions you may have. They can also help you to schedule your party with our delicious tried and true Italian menu.
Consider appetizers and Zeppoles Huntington as your late- night snack to your guests. Or, maybe plan a 2am pizza party back at your hotel. All we need is a parking lot! Valducci's Pizza will not disappoint.
When you are planning your corporate event, Christmas party, reunion, confirmation party, graduation or block party remember there is only one food truck that can offer you 31 years of experience and tastefully delicious cuisine. Valducci's Pizza.
Call us today at 212 470-2277 and let us help you make this the best party ever. We are available 7 days a week and are available to fit your needs. If you should have guests that require special diets, that too can be arranged.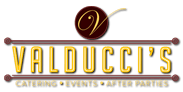 Schedule Your Event with Valducci's Catering