If you have been searching for the most mouthwatering Pizza Pleasant Plains, come to Valducci's Pizza. With two great locations to serve our traditional Italian delights you won't be disappointed.
We are located in Staten island on Veterans Road and Hylan Blvd, both open daily.
For over 30 years Valducci's Pizza has been satisfying our customers with the most delectable Pizza.
We use the finest of ingredients like fresh mozzarella, Italian seasonings, fresh dough and the most- tasty Italian sauce. Our crust is cooked to perfection and our cheese just melts in your mouth.
We make a Pizza you will find hard to top. Did you know that the New York Daily News has voted Valducc's Pizza the best pizza 5 times? It's true.
We can cater your event whether it be corporate, family reunion, after party or organization.
We have a food truck that can come to your event and serve your guests with the best in finger foods as well. We offer mozzarella sticks, stuffed mushrooms, calamari, shrimp, clams, mussels, pizza and even zeppoles.
We have catered to events and functions at the Bronx Zoo, Brooklyn Nets, Fashion Institute of Technology, Jacob Javits Center, Jet Blue, mad Dog Productions, Sloan Kettering, Tiffany & Co, Tribeca Films and the list goes on.
But you don't have to be a star to enjoy one of our pizza's because the star is the pizza!
Best Pizza in Pleasant Plains
If you would like to learn more about Valducci's Pizza and see photos of our mouthwatering delights, simply click on the attached link Home – Valducci's Famous Original Pizza (valduccispizza.com). Now with 2 locations on Staten Island. 
If you would like to order for pick-up you can call to place your order at 718 948-2002. If you would like to speak with a representative about catering, please call directly to 212 470-2277. 
Valducic's Pizza Pleasant Plains has been preparing the freshest and most delightful Italian dishes since 1989. We have also served at famous after parties such as the after- wedding party of the Jersey Shore's " Mr. Situation". 
If you check our menu you will see that our prices are affordable, but our Pizza is out of this world.
When searching for the best in Italian food naturally you want the freshest made with the finest of ingredients. You want mouthwatering flavor that makes you pallet sing, you want affordability, and you demand that your choice in Pizza be made to perfection. We do it all here at Valducci's Pizza.
Call us today and let our chefs prepare for you a fabulous pizza that will make your heart sing!
Here at Valducci's Pizza we make the trip well worth it. Call to place an order for pick up, pick-up by your favorite delivery service or dine-in.
After all, when it comes to making your fantasy of a delicious Pizza Pleasant Plains a reality, you can depend on Valducci's Pizza. 718 948-2002. Browned crust, delicious sauce and cooked to perfection toppings.
We also offer Catering in Pleasant Plains. Call today to have your next event catered with us!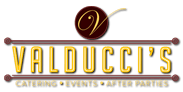 Schedule Your Event with Valducci's Catering!