So it's official, you and your partner have decided to get married and make your relationship a forever commitment! Congratulations! Now it's time to set a date and make a plan, and we at Valducci's Wedding Catering Manhattan are here for you!
We understand that every wedding is a personal reflection of two individuals and should be paid homage to with the perfect wedding menu! We can do it all when it comes to providing Italian cuisine like no other! We are a full-service event planning and catering company who are eager to bring you our excellent food and service for your once-in-a-lifetime affair! We proudly offer exceptional Italian fare with very reasonable prices and outstanding service!
It is our pleasure to listen to your ideas and requests as you pick the menu for your special day. If you're looking to have your reception at a location other than our restaurant because you have such a large guest list, our Wedding Catering Manhattan food truck is more than able to bring our delicious food to your selected venue.
Find Wedding Catering Near Manhattan
For your cocktail hour, you may wish to consider our stuffed mushrooms, mini rice balls, mozzarella sticks, or fried shrimp, just to name a few of the choices we offer. For the main course, we have quite an array of pizza choices you can go with, along with hot dishes that include options like chicken parmigiana, broccoli rabe and sausage, penne a la vodka, and steak pizzolo.
If you'd like to also have some lighter entrees, we make several types of panini and wrap platters, as well as our fresh, delectable salads. Whatever your tastes or dietary needs may be, we can make it happen!
You may want to also present to your guests our freshly-made, extremely popular zeppoles as the cherry-on-top- ending to your glorious wedding day! We prepare all of our menu items with top-of-the-line, authentic ingredients. Our recipes have been passed down from generation to generation, and we have a passion to share these wonderful creations with you on this momentous occasion!
Valducci's Wedding Catering In Manhattan
We are delighted to share that we have more than 30 years' experience in preparing delicious Italian cooking. We've catered to the stars and will provide the same outstanding service to you and all those in attendance at this noteworthy occasion.
Wedding Catering Manhattan are very well-known throughout the Long Island/New York City area, and by selecting us to cater your wedding reception, you are truly giving each of your guests a taste experience that they will remember for years to come!
If you'd like to actually see some of what we have to offer, then it would be a great idea to check out our menu. It includes various photos of some of our mouth-watering dishes, and it would be our joy to discuss your wedding menu plan further at our location.
Pizza Food Trucks For Wedding Catering
Our representatives would be glad to answer any questions you may have and set up an appointment to go over your unique menu vision. Our phone number is (212)470-2277, and we look forward to hearing from you at your convenience.
We cater all sorts of special events. Give us a call to inquire about Catering Prince's Bay.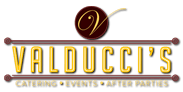 Schedule Your Event with Valducci's Catering!